---
Identify word meanings
Linked from: Retrieving directly stated information 70-79
PAT Reading descriptor: Identifies the meanings of three simple, familiar words without audio support.
Key concepts and skills: Retrieving directly stated information
---
Question
Drag lines to match each word with its meaning.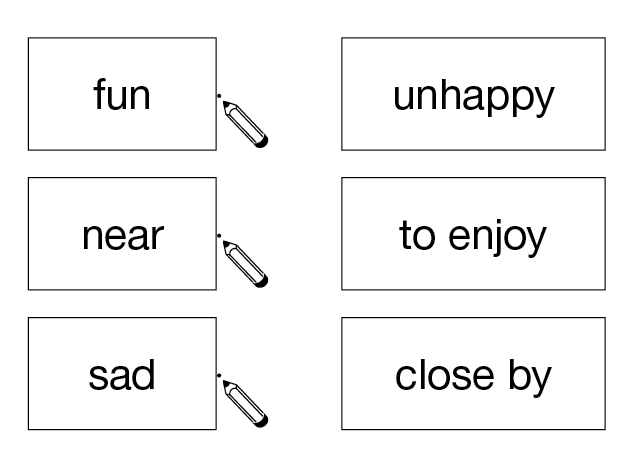 Answer
Drag 'fun' to 'to enjoy', 'near' to 'close by', 'sad' to 'unhappy'
---
Explanation
Students match familiar words to their synonyms or simple definitions to indicate their understanding of the meaning of these words. The difficulty of this question type depends upon the familiarity of the words (which they may have to decode) and the level of complexity in the definitions. In the example provided here, the definitions are fairly easy to read and understand.
Linked teaching activities
Associated test items
PAT Early Years Reading Mid-Year 1 - Question 4
PAT Early Years Reading Mid-Year 1 - Question 7